Swedish National Cybersecurity Node for Accelerating Innovation and Research in Cybersecurity
CONCORDIA is building cybersecurity Competence Community in Europe, in order to retain and develop the cybersecurity technological and industrial capacities necessary to secure Digital Single Market, increase the competitiveness of the EU cybersecurity industry, and turn cybersecurity into a competitive advantage of other EU industries. Cybersecurity Competence Community is an integral part of an EU directive to establish the European Cybersecurity Industrial, Technology & Research Competence Centre. The Competence Community will be an EU exclusive large, open, and diverse group of cybersecurity stakeholders, both cross European and national. In Sweden, RISE together with Sweden's innovation agency, VINNOVA has setup a National Cybersecurity Node to build the cybersecurity Competence Community, among other activities around cybersecurity in Sweden.
The scope of cybersecurity is currently overstretched across different stakeholders in society. All these stakeholders conduct their cybersecurity efforts in independent ways as per their perception of the threat, their organizational regulatory frameworks, and the level of expertise available to them. In a feasibility study conducted by RISE, it was established after intensive discussions with Swedish authorities and society stakeholders, academia, and industry that in isolation these stakeholders cannot gather the required knowledge about the fast-evolving threat landscape. Along with an organization's individual efforts, increased collaboration, exchange of information and best practices are required to accelerate innovation and stay ahead. The study concluded with highlighting a demand for a National Cybersecurity Node with the objective to accelerate research and innovation for an increased competitiveness of industry in Sweden.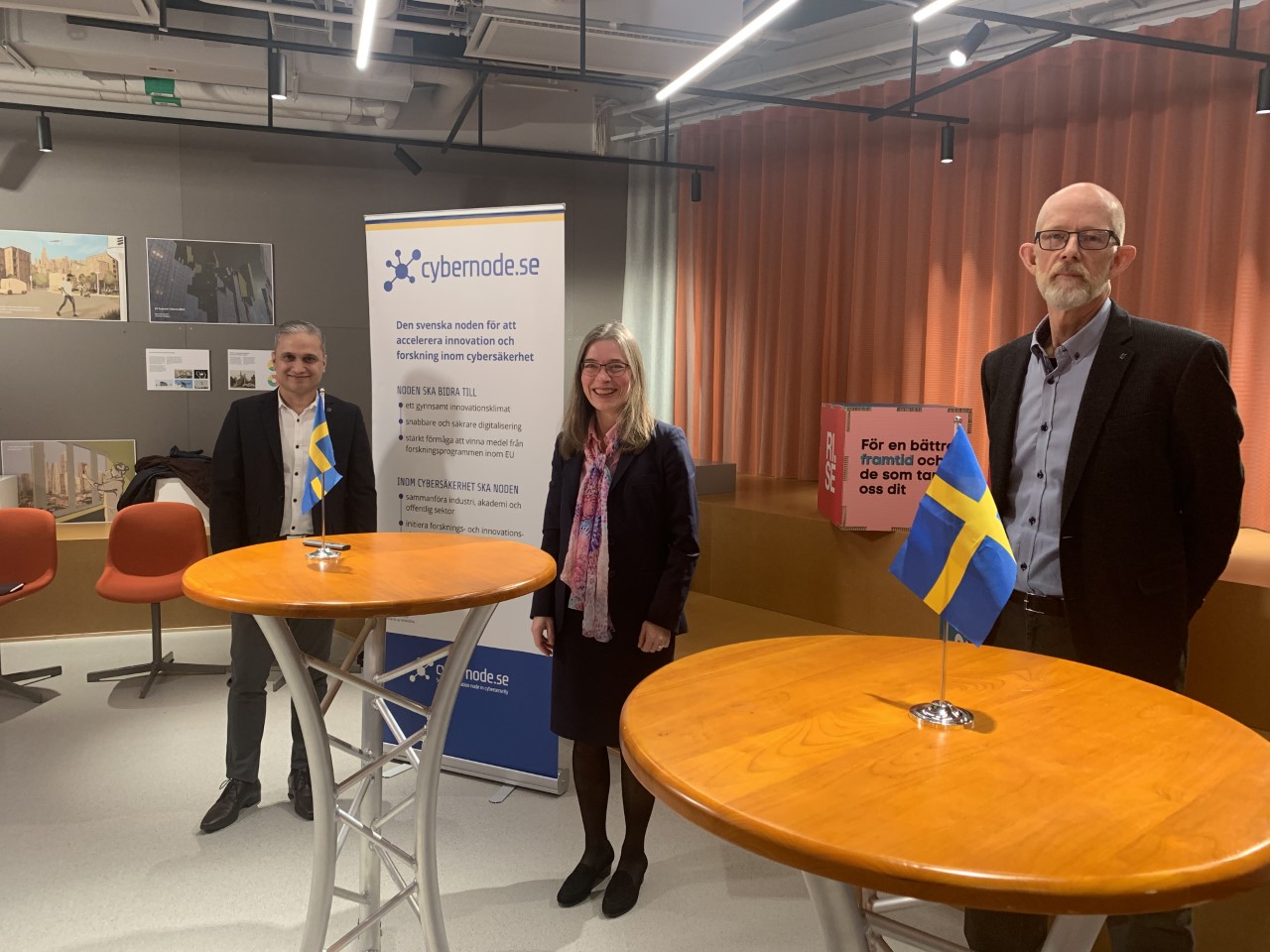 The Swedish National Cybersecurity Node for accelerating innovation and research in cybersecurity was formally inaugurated on December 4, 2020 by Ibrahim Baylan, the Swedish minister of business, industry, and innovation. Due to the pandemic, the inauguration was a digital event which was livestreamed. The Cybersecurity Node is since functional and planned to run till 2027.
The main goal of the Cybersecurity Node is to "function as a platform or a network that, based on a common national agenda, initiates and runs innovation and research projects and activities". It is led by Shahid Raza, Director of the Node and Martin Bergling, the Project Coordinator; and funded by VINNOVA. The Node initially has a focus on Sweden and on actors active in Sweden in the first phase of the innovation (i.e. Dec 2020-June 2021). During this period, it aims at creating an innovative landscape for faster and secure digitization in Swedish business, industry, and public sectors. This will be materialized by bringing together business, academia, and the public sector to identify, prioritize, initiate, and conduct research and innovation activities in cyber security. After phase 1, the area of interest will be expanded regarding cooperation within the EU. The collaborations with EU members and participants will strengthen the overall EU cybersecurity capabilities. Cybersecurity Node has already begun realization of its principles with working groups active in AI in Cybersecurity, 5G security, IoT Security, Security in Industry 4.0 and Standardization. The details of the Cybersecurity Node can be found at https://cybernode.se/ .

(By Anum Khurshid, RISE Research Institutes of Sweden AB)