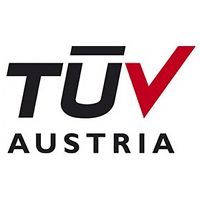 Profile: The core target of TÜV AUSTRIA is to guarantee technical safety, to protect the environment and to improve the quality of products and services since 1872. More than 1.500 experts of TÜV AUSTRIA Group are committed to the clients in over 40 countries where highly qualified staff members fulfil their work and demonstrate the competence of TÜV ASUTRIA by gaining a multitude of accreditations, notifications, authorisations etc. The tailor-made services in 270 areas embrace industrial services, inspection, monitoring, certification, IT security, insurance services and training. The services rendered have top priority and are based on high competence in solving problems of any kind, on communication abilities and on impartiality. TÜV AUSTRIA stands for expert advice, know-how and profound knowledge of ways to minimize risks and problems. The documents and certificates issued by TUV AUSTRIA are highly recognized in and outside the European Community as well as in overseas countries. For the customers this is the guarantee for legitimacy and acceptance by economy, authorities and the public in general. TÜV TRUST IT GmbH is a daughter company of the TÜV AUSTRIA Group, providing neutral, objective and independent services that are related to Information security and Data protection. The mission of the company is to support the organizations in the protection of their information. Information assets are, in our understanding, all relevant information in companies that are necessary for the proper functioning of the business processes, function and infrastructure. Therefore, information is an asset that, like other assets of a business, must be protected according to its importance. Our services are based on recognized standards and best practices. It is important for us to make an appreciable contribution to the added value of our customers with tailor-made support services. The services offered by TÜV TRUST IT GmbH can be distributed in the following categories:
Information security
Cyber security
Cloud and compliance
Training and workshops
Certifications (through the certification companies of the TÜV AUSTRIA group)
Expertise and Role in CONCORDIA: TUVA will participate in all CONCORDIA's WPs and will mainly contribute to certification and standardization activities leading the task T5.3. Its contribution will also include neutral, objective and independent services that are related to Information security, Cyber security, Cloud and compliance, Training and workshops and Certifications.
Links: TÜV Austria