Cybershare Academy for School 2021 – Update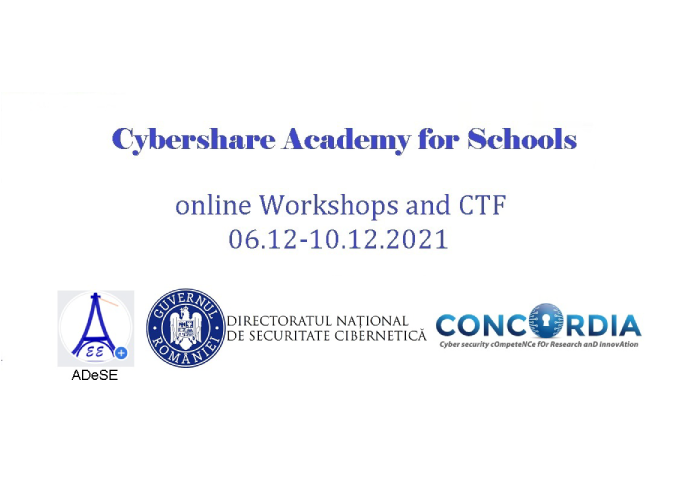 The Cybershare Academy for Schools ran during the week December 6 – December 10, 2021. The event was coordinated by ADeSE Romanian NGO in partnership with CONCORDIA project, and with the involvement of the Romanian National Cyber Security Directorate (DNSC).
The event brought together 93 high-school students and 14 teachers coming from 11 schools from Romania and Croatia, interested to learn about cybersecurity and to compete in a Capture-the-Flag challenge.
The week started with introductory talks by Gabi Dreo (Coordinator CONCORDIA) and Dan Cimpean (Director DNSC) on why should school students choose a career in Cybersecurity. It continued with the presentation of the results of the CONCORDIA survey for high-school related on the type of cybersecurity and cybersafety related content and delivery methodologies fit for high-school level. The day closed with a panel on Women in Cyber during which the audience was briefly introduced in the activities initiated by CONCORDIA to increase the number of women in cybersecurity, followed by a dialogue with three charismatic women cybersecurity professionals who shared with the audience their experience in the area, and encouraged girls to consider pursuing a career in cyber.
For three days in a row the students and the teachers attended workshops based on their interest. The agenda covered topics such as Be Internet awesome, Network Attacks and Authentication & Authorization aimed at introducing cybersecurity topics at a basic level, and Forensic: Steganography, CyberSecurity101, Cryptography and Common Web Applications Attacks addressed mainly to the students interested to compete in the challenge.
The week closed with a two hours Capture-the-Flag contest ran under the CONCORDIA KYPO cyber-range platform. No less than 19 teams of about 5 students each tried to crack the challenge. Worth mentioning that out of the 93 students participating in the challenge, 15% were girls.
And the winners were:
Team "MastersOfCeremony" – XIII. Gimnazija, Zagreb, Croatia
Team "Vianu Team" – Colegiul Național de Informatică Tudor Vianu, Bucharest, Romania
Team "The Gentlemen" – Technical school Čakovec, Čakovec, Croatia
CONGRATULATIONS!