CODE 2020: "European Digital Sovereignty – Road to Success?"
Under the German EU presidency, the Research Institute CODE at the Bundeswehr University Munich organised from 10th to 12th November 2020 its annual conference. Due to the pandemic situation, CODE 2020 was held as a digital conference, including high-level discussions, 7 workshops, an innovation conference as well as science track devoted to PhD students. With nearly 600 registered participants from politics, military, science and industry it was the largest so far. During the three conference days, the CONCORDIA project was able to present its service board and achievements in special exhibition session. The discussions centered around the roadmap towards a European Digital Sovereignty, overcoming the fragmentation of capacities by building digital ecosystems, as CONCORDIA is doing. Prominent guests from European politics, military, science and industry such as German and Dutch Ministers of Defence Ms. Kramp-Karrenbauer and Ms. Bijleveld-Schouten, State Secretary Zimmer, Executive Directors of ENISA and EDA Mr. Lepassar and Mr. Šedivý, Lieutenant General Vetter, Ambassador Ischinger, Chairman of the Munich Security Conference attended the first day.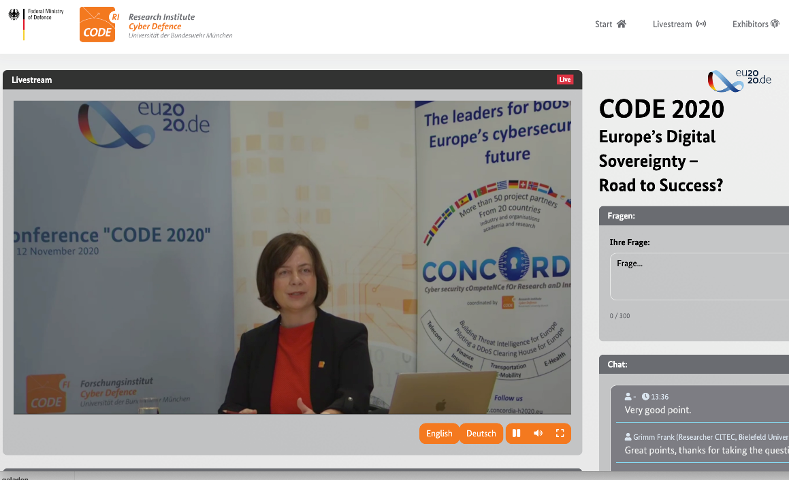 Workshops organised on the second day were an excellent opportunity, also for participating CONCORDIA project partners, to discuss and exchange experiences and visions on diverse topics, from "5G cybersecurity in the EU", "Cyber resilience of critical infrastructure", "Quantum Technology" to "Cybersecurity from a Policy Perspective".
The third day of CODE annual conference was dedicated to research and PhD students. The keynote was given by, Prof. Aiko Pras from University of Twente, lead of CONCORDIA's research activities, emphasising CONCORDIA as a leading cybersecurity competence ecosystem that strengthens Europe's cybersecurity capabilities and cooperation between research and industry. PhD students involved in CONCORDIA activities got a chance to present their research topics and current results that contribute to CONCORDIA's rich research portfolio. The science track is a contribution of building the CONCORDIA PhD ecosystem with the aim of connecting around 100 PhD students.
CONCORDIA has clearly demonstrated building the European digital ecosystem which is the basis of a European digital sovereignty.
Further information about the CODE 2020 conference is available at https://www.unibw.de/code/jahrestagungen.
(By Gabi Dreo, CODE)