Preparing to fight Cyber Threats – The Human aspect
It is news to no one that everyday organizations experience incidents related to Cybersecurity. Cyber threats follow an increasing progression for the last five years. What can organizations do in order to be better prepared and more resilient?
Having identified this rising threat, in the last years organizations have started investing in creating more cyber-resilient structures and operation. A major part in these activities is played by people. Each year more people are employed in the area of Cybersecurity. This statement is verified by various studies showing that although there is still a lack in Cybersecurity talent within the organizations, this deficiency is not as bad as was recorded the previous years. On the other hand, although the need is great, hiring managers state that they have low confidence on the competencies of the candidates especially in the positions where practical skills and abilities are needed.
The CONCORDIA team identified this issue and decided to address it by developing a Cybersecurity Skills Certification Framework (to be published soon). This framework, based on international best practices and standards, will validate the theoretical and practical Cybersecurity knowledge, skills and abilities needed by the organizations per sector to effectively fulfil the relevant Roles. The implementation of the Framework (through different specific certification schemes) will allow
organizations to gain the confidence needed regarding the competence of a professional prior to hiring
organizations to independently verify – through the use of e.g. blockchain technology- the claimed credentials of the professionals
professionals to produce undisputable, objective and recognized evidence of their competence
professionals to test themselves in a controlled, practical and simulated environment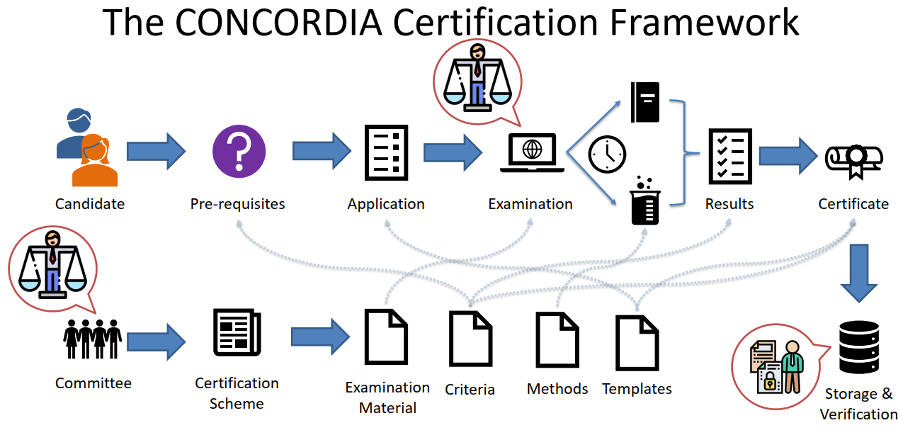 Whether small or large, public or private, operating in a critical sector or not, organizations need to fortify themselves against Cyber threats also by investing professionals with proven hands-on and practical skills. The CONCORDIA team envisions to pilot the Cybersecurity Skills Certification Framework through specific Cybersecurity Skills Certification Schemes currently missing from the market based on the conclusions of our Feasibility study on Skills Certification Schemes [link]. The first such Scheme is the one of the Cybersecurity Consultant. The CONCORDIA team has already started this effort by defining the Role Profile of the Cybersecurity Consultant – A role profile contains the competencies or/and skills, knowledge, abilities and tasks that the role should have in order to be effective, and is the basis for any Skills Certification Scheme. The CONCORDIA Skills Certification scheme for Cybersecurity Consultant will be doubled by CONCORDIA course specifically designed to helping participants prepare in view of passing the exams.
More information on the Subject of Cybersecurity Skills Certification and the Cybersecurity Consultant Role Profile creation can be found by following the links below:
Follow our social media channels or register to our newsletter to be kept updated with the launch of the pilot course and the associated pilot certification scheme!
(By Iro Chatzopoulou,TÜV AUSTRIA)