Field Manual for Cybersecurity Training Design
We prepared the Field Manual to help you design your hands-on cybersecurity training in KYPO CRP. It is a minimalistic summary of our know-how gained through years of practice.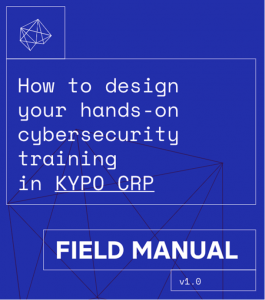 It is a challenge to design good cybersecurity training. We know it very well because we have done it many times – we trained professionals from giant energy companies, the government, or the bank sector.
However, it is meaningful to face this challenge. We all know that a skilled workforce is crucial in the domain. The digital resilience of our society requires professionals.
That's the reason why we decide to create this Field Manual. It combines the main principles from several disciplines (management, andragogy, design, or even psychology) and the KYPO Cyber Range Platform fundamentals).
Of course, this is not a comprehensive description nor a substitute for KYPO CRP documentation. It is a minimalistic guide that will help the cybersecurity community create a mental model for preparing training.
We created the manual with the significant contribution of the CONCORDIA H2020 project