Teaching cybersecurity & cybersafety in high school
The CONCORDIA Methodology and Guidelines for high school is out. Teachers are offered a flexible approach and 24 fiches to help prepare their cybersecurity and cybersafety related lessons.
The CONCORDIA Methodology and Guidelines in support of high-school teachers describes a model of teaching and includes detailed information on how to address different cybersecurity and cybersafety topics in high school. We are also pointing to related initiatives deployed in different European countries. The document contains 470+ references and is structured as shown below:

The Methodology
The process we are proposing follows 3 phases: Assess/Plan/Deliver. At the core of our Methodology are (i) the active engagement of the students from the Assess phase, and (ii) the usage of the practical examples (see BYOE concept) and games/videos to illustrate the cybersecurity and cybersafety concepts.
The Guidelines
The document covers 12 cybersafety and 12 cybersecurity topics we identified in the preparatory phase as essential to detail. Some of the topics are described at different levels of difficulty (Foundation, Intermediate, Advanced) as we considered fit for the high-school level, having in mind that we are addressing with this methodology a wide range of schools.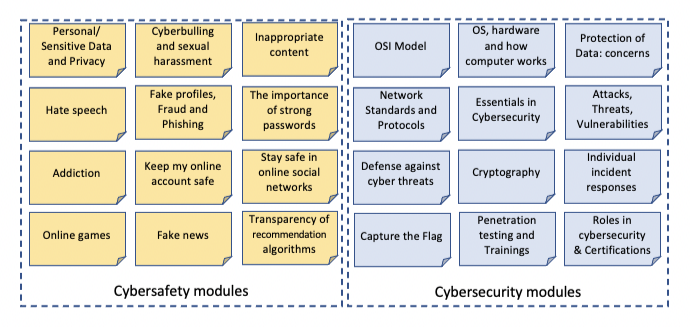 As part of cybersecurity, we thought relevant to provide a bit of guidance also on the most common cybersecurity related role profiles and certification schemes, to help students visualize a potential career path.
The Annex
The document closes with an annex grouping relevant initiatives deployed in Europe. The tabled structure helps teachers grasp easily the topic addressed, the age segment, the language, before deciding to explore it further.
Let us know!
Are you a high school teacher interested to apply this methodology and use the cybersecurity / cybersafety related fiches we propose?
Drop us a message at contact@concordia.eu and we will update you on the related activities planned for beginning of 2023.